Services
& Events
Sunday, April 11, 2021
9:30 AM Bible study & Sunday school
10:45 AM Morning service
5:00 PM Deacons & Finance
Women on Mission
6:00 PM Evening service

Click the icon for a bulletin for Sunday.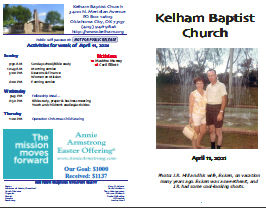 Wednesday, April 14, 2021
5:45 PM Fellowship Meal—Ham
$3/person Reservations required
6:30 PM Bible study, prayer & business
Youth & children's activities
We provide a low-power AM radio broadcast
of the morning service in our parking lot on 1610 AM
for those who prefer to remain in their cars.
We now have an external antenna booster and
we are tuning it so that you should have a good signal anywhere in our parking lot.
Thursday
1:00 PM Operation Christmas Child Sewing Day